Eyeglasses Frames Collection Starting in 399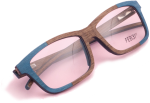 'LOVE' is Proportional to 'CARE' we do!
Latest Eyeglasses and Sunglasses for Men & Women
Ocnik is best the place to buy the latest eyeglasses and sunglasses for men & women in India. We serve with the exceptional first-rate latest eyeglasses & sunglasses for men and women, and for everyone online as well as at our store. Our eyeglasses are extraordinarily great and stylish that nobody can withstand our service. We have got a big collection of the latest eyewear, eyeglasses, sunglasses, shades, goggles, spectacles, and of every eye accessories for anyone. Our new latest Designs of specs, goggles, sun shades, eyeglasses, spectacles, frames, are top-class in India. Ocnik affords its services for men & women's latest eyeglasses and sunglasses in Delhi in addition to throughout India. Not only this but also offering you eyeglasses frame starting at only 399, from our wide range of collections.
Ocnik is #1 Shop To Buy Eyeglasses, Spectacles, Glasses Frame Online. Buy Eyeglasses, Spectacles, Glasses Frame Online From the best manufacturer in India. Shop 1500+ new spectacles, optical glasses frames, spec & chashma online in Delhi. Get your first eyeglasses frame only in 399 from our wide range of collection.
Eyeglasses are what everyone wants to be stylish and fashionable and they must be suited to their face. Ocnik has the best and trending designer eyeglasses for everyone, for women, men, and kids as well. Men always want their eyeglasses should be classy and perfectly suitable on their faces. And Ocnik has all the varieties of eyewear glasses for men. 
Ocnik is offering the latest Designs of Eyeglasses Frames, Sunglasses, and contact lenses. Ocnik spectacles have the latest variety of spectacles for females, males, and for kids also. Ocnik has the finest variety and a wide range collection of Eyeglasses Frames. Ocnik spectacles have so many different styles of frames like rectangular shaped frames, round-shaped frames, cat-eye shaped frames and so many of the latest types of frames which are latest in 2020.