The Frames designed by Ocnik is designed by keeping in mind an Ideam face of an Inian Faces. We have a huge variety of collections that fit according to your face.
We have served over more than Lakh of happy customers. Still, in any case, if you are having any trouble with ordering due to size or any fitment issue, Don't worry. All our products come with a 14-day Return Policy. You can return the frame and we will return the money, including the money you paid for the lenses. And if you want the help of our experts, our experts can customize the frame and lenses according to your prescription again without any cost. Yes, if you are not happy with the fit. We give a full refund.
Try to Picking Size from your Current Frames
You Can read your frame size from your current Frame very easily. Hold your current pair of eyewear which is comfortable to your face and fits your face well, now look on the insides of the temples. Find the set of numbers showing the measurement e.g. 52-16-141. These numbers are the lens width, bridge width, and temple length respectively.

Lens Diameter/Width – It is the horizontal width of lens in millimeters. Lens Diameter/Width ranges between 40-62mm.
Width Of Bridge – It is the space or distance between the two lenses in millimeters. The width Of the Bridge ranges between 14-24mm.
Length of Temple – It is the length from screw to temple tips. Length of Temple ranges between 110-150mm.
How to Measure your Frame with Ruler ?
There is maybe a chance that the measurement of your frames you are wearing is faded, erased, or is not printed. In that case, you only need a millimeter ruler or a cloth measuring tape to measure the frame of your specs by yourself. Find size as shown above so you can purchase your set of eyeglasses or sunglasses without any hassle and you can also reach to our experts by contacting them.

How to Find Frame Size with the help of Clothing Size?
Here is the chart given below which help you to find the perfect frame size
If you wear small-sized clothes and your face is smaal too, frames with less than equal to 50mm of lens-width would fit your face easily in case of eyeglasses. In the case of sunglasses, the width of 55mm or less should be fit your face.
People who wear Medium size clothes, they should go for frames between 51mm to 54mm of lens-width for eyeglasses & 56mm to 64mm for Shades.

Same as For people who wear large-sized clothes, they should go for spectacles with a lens-width/diameter of 55mm or greater than the 55mm.In the case of Sunglasses, the width of 65mm or more should be fit your face.
Eyeglasses Size Chart According to Your Fits
| SMALL | MEDIUM | LARGE |
| --- | --- | --- |
| 50mm or less | 51mm-54mm | 55mm or more |
Sunglasses Size Chart
| SMALL | MEDIUM | LARGE |
| --- | --- | --- |
| 55mm or less | 56mm-64mm | 65mm or more |
Measure your Frame Size Using Credit Card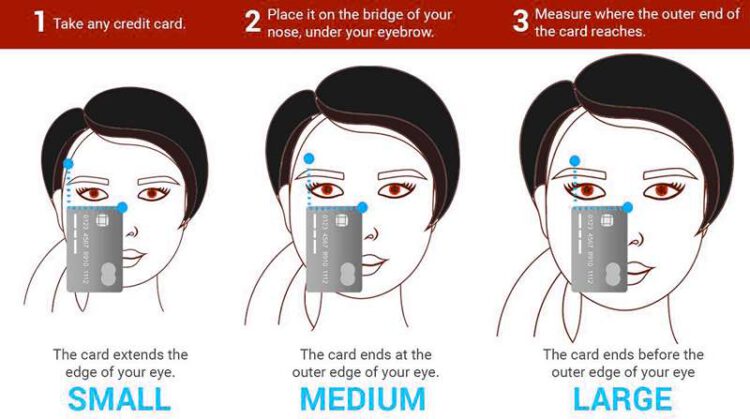 Now Know your size of frame anywhere or on go with your debit card and credit card without any hassle. You will be surprise to know that the standard width of the Credit/Debit card can be compared to a medium (M) sized frame.
To know the size of the frame, place one edge of the card at the center of your nose, and notice where it ends. The card ends at the tip of your eyes, a medium-sized frame would fit you perfectly. But if the card width extends the eyes, a small size would be perfect for you. when the card edge finishes before your eyes end, you should go for an (L) large-sized frame.
Still confused About the Exact Size of frame that fits you?
Don't worry. Give us a call on +91-8826265354 our experts will help you to find your perfect frame-size.